Diego Diaz of Halo Group
A veteran in the leather industry, Diego Diaz began his career at one of the most established and traditional tanneries in Argentina when he was just 15 years old. Today, Diego works closely with British furniture designer Timothy Oulton of the Halo Group, to create world class leathers of natural beauty.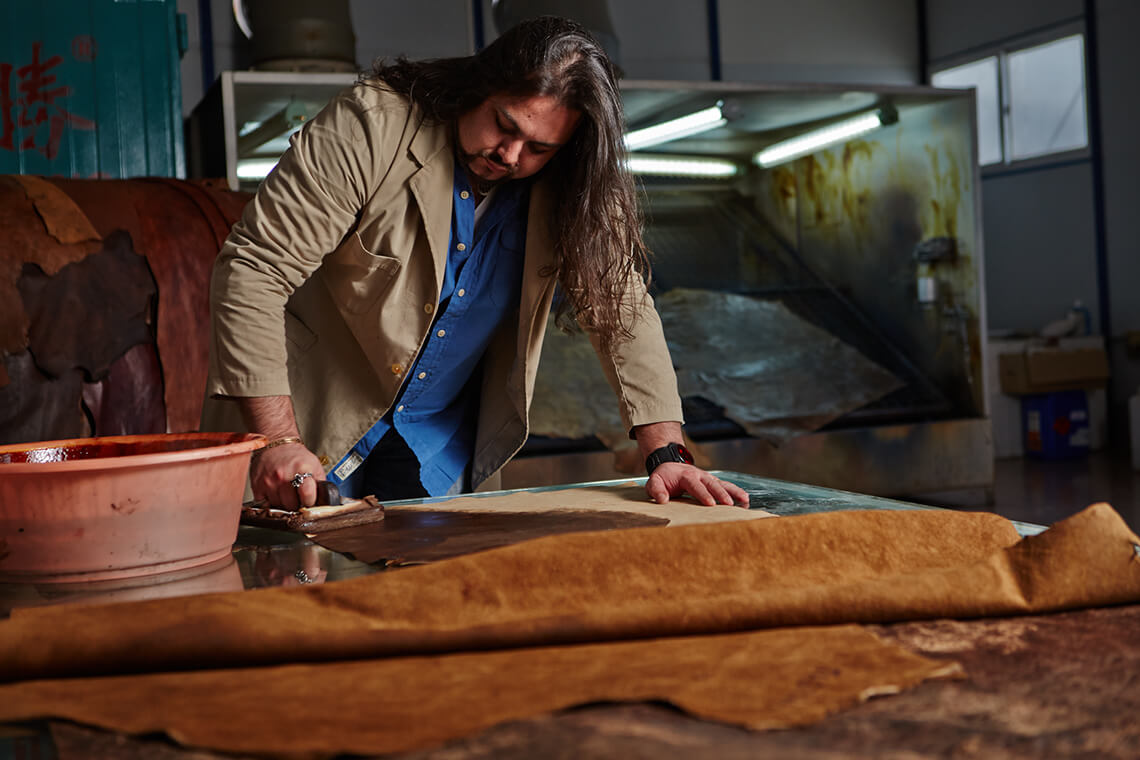 We create something beautiful, pieces that last for generations and actually get better with age.
Constantly pushing the boundaries of leather craft, unorthodox methods are woven with age old hand-finishing techniques to explore new ways of living with leather.
Known as the original hand finishers, the Halo brand was established in 1976 with an antiques shop in England owned by Timothy's father. Later, with Timothy at the helm, the company evolved to become a luxury global brand, designing and handcrafting a wide range of furniture and accessories that were entrenched in an ethos of pure, authentic materials and artisanal craftsmanship.
We create something beautiful, pieces that last for generations and actually get better with age.
In 2008, Diego was introduced to Timothy at an exhibition in Shanghai. The pair immediately hit it off and just ten days later Diego upped sticks to work alongside Timothy at Halo. Together, their experience, expertise and fearless creativity has resulted in ground-breaking new concepts.
"Our aim is to showcase leather as a natural, beautiful material", explains Diego.
"People forget sometimes that leather is a natural product. We take a by-product from a much larger industry and create something beautiful – pieces that last for generations and actually get better with age and use."
Every hide is worked on individually by hand over many hours, using translucent dyes that emphasise the leather's naturally qualities rather than masking its 'defects' with heavy pigments. The leather and dye become one, creating rich and durable leathers that feel warm, comfortable and luxurious.
For Diego, inspiration can come from anywhere; old leather boots, a vintage bag, even a piece of wood or stone. His experiments have involved putting the leather through a concrete mixer and pouring different concoctions over the hides in his fully functioning laboratory or 'Magic Room' as he calls it, all in the pursuit of new and interesting finishes.
"One of my customers once told me 'You are an artist; your canvas is the leather' which I took as a very special compliment, because that is exactly what we strive to do, create something unique and beautiful. It's a creative process." 
Sustainable processing and zero impact leather are a core focus for the company. Halo Origem, the company's tannery in Brazil, uses a unique, technically advanced water management system, which uses 85% less water and 40% less chemicals during the tanning process. The concept was developed independently and engineered entirely in-house.
Diego continues to work with Timothy on new leather innovations for the Halo Group, whose brands include Halo Collections, Halo Touch, Timothy Oulton, and Sofa Workshop by Timothy Oulton.
On the future, Diego says, "We're working on something very exciting right now – it's so natural and so pure, I think it will really change people's minds about how they see leather. That's really our mission; to bring back the passion for this noble, natural, beautiful material."