Elisa Palomino
Elisa Palomino is a fashion designer and researcher examining the material practices of fishskin ethnographic objects in natural history collections, as cultural and ecological resources in the context of contemporary sustainable fashion.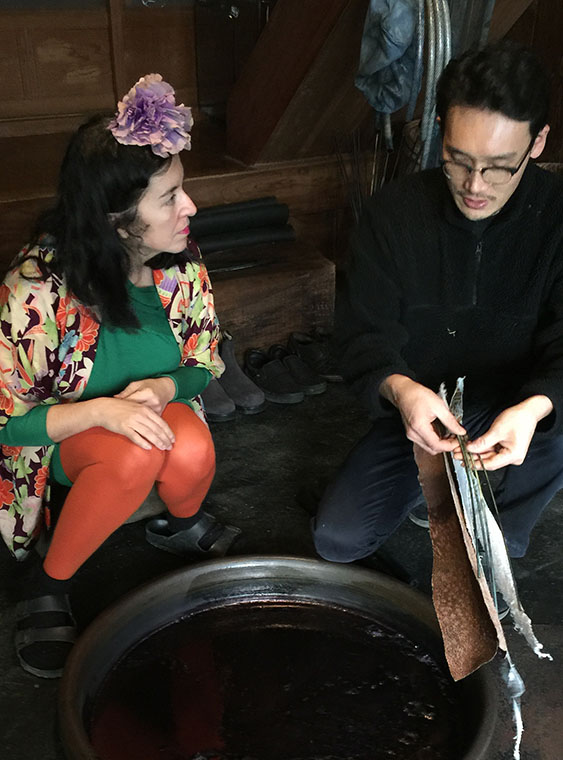 She holds an MA in Fashion design from Central Saint Martins, University of the Arts and she is a Research Associate in the Department of Fashion at Central Saint Martins.
Currently a Research Associate in the Department of Anthropology at the Smithsonian National Museum of Natural History, she is conducting a comparative study of fish skin artefacts with the groups with historical evidence of fish skin production: the Ainu from Hokkaido, Japan; the Inuit of Alaska and Canada; the Nivkh and Nanai Siberian peoples; the Hezhen from northeast China; the Saami of northern Scandinavia and Icelanders. Her research aims to activate new models for sustainable textiles encouraging indigenous artisans to continue to produce fish skin craft and to pass their skills onto others, creating socially engaging participative projects. In 2019 she received a Fulbright scholarship to develop the project "Indigenous Arctic fish skin clothing: Cultural and ecological impacts." at the Smithsonian Institution Arctic Studies Center, National Museum of Natural History and at the Anchorage Museum, Alaska. She is the principal investigator at the EU Horizon 2020 funded project: FishSkin, developing fish leather as a more sustainable material for fashion, with vegetable tanning, natural alternatives for petroleum-based dyes and water-based ink digital printing.
Through EU COSME WORTH funded project: Fish leather in the Luxury Industry she has created a fish leather clutch collection developing more sustainable tanning, dyeing and embellishment techniques. Her film 'Preservation of Hezhen Fishskin Tradition Through Fashion HE' has won the 'Best Green Fashion Film' award at the Fashion Film Festival Milano. Her fish skin research draws on the design practice that she instigated whilst working as design director at John Galliano developing fish leather garments in 2002. She offers twenty-five years-experience designing for luxury fashion brands internationally and creating her own brand. Currently as Fashion Print Pathway Leader at Central Saint Martins, and fashion lecturer at international universities, she supports students in engaging with sustainability. Despite the varied work history, certain themes have remained true throughout her working life.
Elisa has gravitated towards work in service of others, and she has always sought to teach people. Her past points towards her present and gives her a wide scope of experiences to draw upon.
How did you come to the idea to work with fish leather?
My work with fish skin draws on the design practices that I instigated during my eight years as head of the design studio at John Galliano, developing fish leather garments for Galliano and Christian Dior collections in 2002. We were amongst the first brands to use fish leather and by doing so, we situated the barely unknown sustainable material within the context of the luxury Industry. Directing the John Galliano studio, I oversaw creating two collections a year for his namesake brand. They acted as a laboratory of ideas, allowing his imagination to run wild, free from both commercial pressures associated with a house as iconic as global as Dior, a pure expression of his personal design style.
In 2017 I embarked through my PhD studies on a fashion anthropological journey to understand processes of social, cultural, and historical transformation through the study of fish skin practices. The Arctic fish skin studies in this PhD are linked to specific cultural, historical, economic, political, and religious developments in the Arctic, rather than a mere cultural appropriation from the West through recent processes of globalization. Combining my recent knowledge in Arctic anthropology and my previous experience in fashion, has allowed me to recognise Indigenous sustainable ways of life in contrast to contemporary overconsumption fashion patterns, to identify Arctic and contemporary material cultures, as well as to understand how to communicate more effectively with these communities and higher education students.
What makes it so special to work with fish skins?
You can use many prints and embellishments techniques. I source my fish skins from Iceland at Nordic Fish Leather, the world biggest tannery in the world. Nordic Fish Leather tannery uses only Icelandic renewable energy sources for its production of fish leather. The two main sources are hydroelectric and geothermal power. 100% of the electricity supply is from a Hydro Electric power plant in Blönduós. In terms of geothermal power, the warm water is derived from wasted seawater streams from a geothermal power plant close to the town, where the factory is located. The total power usage is therefore CO2 neutral.
I design and create fashion accessories. I also work with a traditional indigo dyeing master in Japan, Takayuki Ishii, who grows the indigo, to dye the fish skins with katazome stencils of indigo floral patterns. The bags are hand crafted by Jay Zaccheus in Fiesole, Florence.
Can you tell something about the products you can make with fish leather?
Fish leather can be used like any other leather in various wear-resistant items. Wallets, I phone cases, watch belts, bags, shoes, belts and clothing.
Does fish leather smell of fish?
Vegetable tanned fish leather does not smell of fish, but it has a distinctive earthy fragrance from the mimosa bark tanned process instead.
Is fish leather as strong as other leather?
Fish leather makes an ideal material candidate for sports footwear, particularly regarding its high specific tear strength. Through the laboratory test I have performed, the values obtained in terms of average tensile strength and percentage elongation (31%), in most cases, are in line with the values obtained for bovine hides). The tensile strength of fish skins was tested both parallel to the backbone and perpendicularly. The analysis of the results shows that the smallest marginal stresses occur along the backbone of fish skins and the smallest marginal deformations occur perpendicularly. (This distribution of strength properties differs from the distribution of strength properties in bovine hides). The orientation of collagen fibers in a linear direction is adapted to the aquatic environment of the fish, therefore fish leather is found to be more stretchable along its length than width.
Do you need special equipment to work with fish leather?
No, you can use the same equipment to work with cow leather.
Is fish leather Eco-friendly and sustainable? If yes, can you explain why.
The use of aquatic resources in the fashion industry can increase the sustainability of both the fashion and fisheries sectors. The capture fisheries and fish farming sectors generate enormous amounts of fish skin, which are most often discarded as waste. These fish skins can be turned into fish leather and other products, adding value to locally caught or farmed fish, leading to higher incomes and creating alternative employment opportunities for local communities, and also keeping alive an endangered ancient craft and, finally, providing the demanding fashion industry with novelty and beauty.
Is a Byproduct of the seafood industry
Nordic Fish Leather uses fish from Nordic regulated fish farms
Nordic Fish Leather uses of non-endangered species of fish. But there are risks creating pressure for fish leather potential species
No extra land, or water is needed.
Skins are sourced locally reducing carbon footprint.
Nordic Fish Leather uses Icelandic geothermal energy from volcanos
Vegetable tanned fish leather is highly biodegradable
Fish leather creates new job opportunities for coastal dwellers
What are your future plans?
My work will be featured at Smithsonian Institution exhibition "FUTURES," an interdisciplinary show opening at the Arts and Industries Building in Washington, D.C. in November and running through summer 2022. Part exhibition, part festival, "FUTURES" will highlight nearly 150 objects dedicated to different visions of the future of humanity. "We ideated values that we think are going to be important to building a hopeful, sustainable and equitable future, and organized our content around those values," says Ashley Molese, a curator for "FUTURES."
My dream is to put together a fish skin coalition with artists from Alaska, Japan, Iceland, Siberia and northeast China to collaborate and explore fish skin fashion and technology.