Challenged by the idea of a zero-waste future, and looking to nature for inspiration, Return To Nature is the result of two years of research and innovation.
In support of DIRT, the foundation for the regeneration of the earth
It has involved seeking out tanneries who can offer fully traceable skins, tracking down craftspeople who have developed pioneering tanning and finishing methods, and finding ways to make straps adjustable and bags secure without using any hardware. The result is a collection of luxurious bags that have been created with the intention of being biodegradable at the end of their lives, not just to avoid further landfill but also to mimic nature's circularity and start a conversation about fashion's role in the climate crisis.
In support of DIRT, the foundation for the regeneration of the earth​
"A few years ago I heard Arizona Muse taking about the idea of a leather bag that could be tanned in a way that allowed it to biodegrade and return to the earth at the end of its life. There is no waste in nature, and this and Arizona's words inspired me to embark on a lengthy project to see if I could make a beautiful bag from responsibly sourced leather, without using any hardware and tanned in a way that meant that it could biodegrade and ultimately return to nature. This is what I set out to do."
Anya Hindmarch
Anya Hindmarch has worked with the family-run German tannery Richard Hoffmans (est.1899) and with Nera, part of family-owned company Smit & Zoon (est.1821) based in the Netherlands to develop this collection. The skins are sourced from Scan-Hide's Swedish farms who have some of the highest standards of animal welfare in Europe and can offer traceability to the animal and its field.
The leather is made with zeology, an innovative new way of tanning that uses zeolite, and is finished with liquid silk to allow the bag to biodegrade 64% in 28 days (tested by BLC ISO 20136 a leather specific method used to determine degradability by microorganisms.)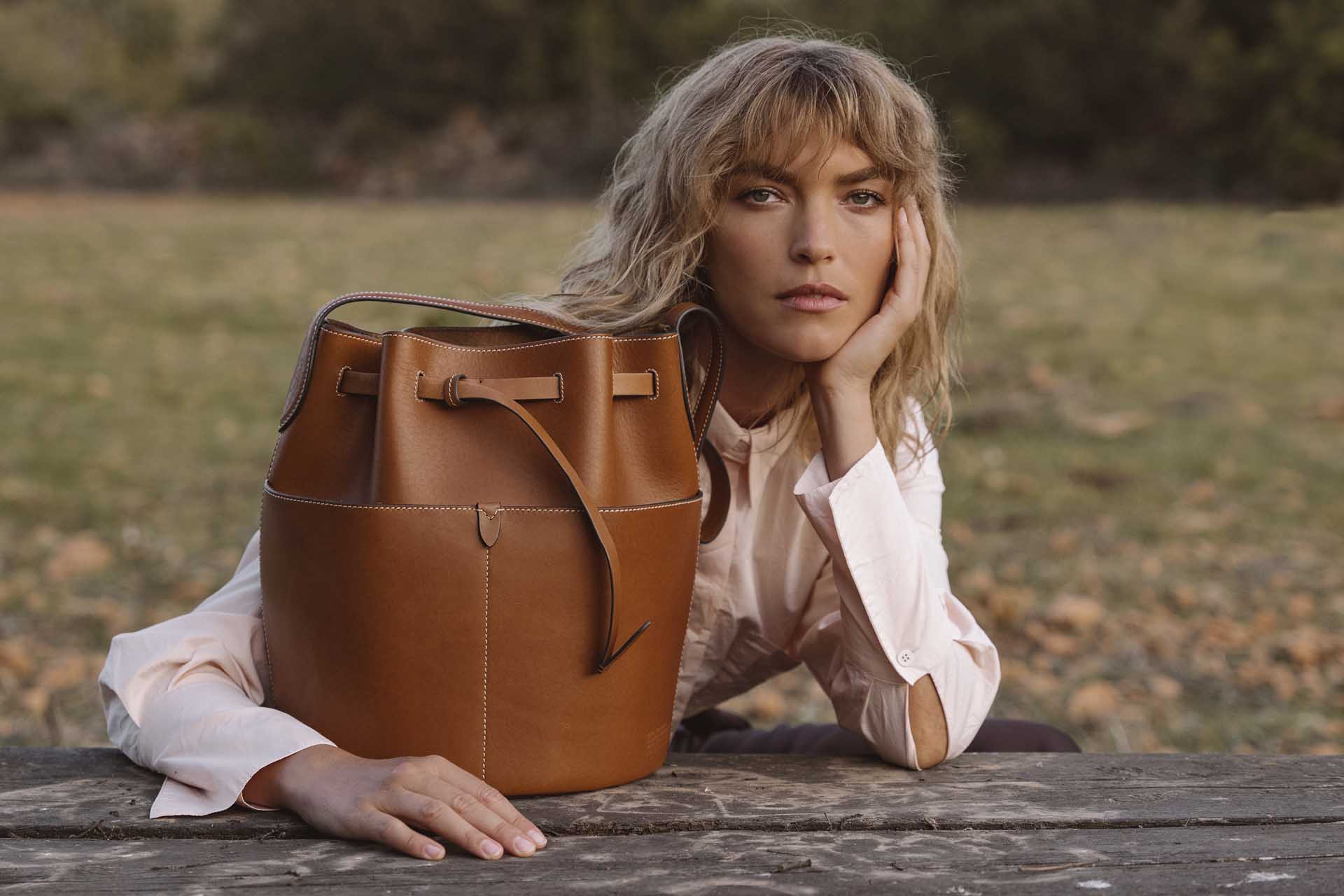 Each piece is hand finished in Ubrique, the small town in Andalucia which has been world- renowned for its leather industry for over half a century.
As the project was inspired by environmentalist and sustainability consultant Arizona Muse's words, Anya Hindmarch has partnered with Muse's new, independent charitable organisation DIRT, with sales of the collection supporting the charity. The foundation is focused on promoting and supporting biodynamic farming, a regenerative agricultural system that enriches rather than depletes. By starting with asking how the land can be supported, biodynamic farming aims to create land which is healthier and more nutrient-rich season after season. For each product sold globally, a proportion of its retail price will be donated to DIRT, from £5 to £10.
In support of DIRT, the foundation for the regeneration of the earth
The collection is made up of three styles: a tote in two sizes, a bucket bag and a cross-body bag. All are available in either natural tan or dark chocolate. Each piece is supple and spacious, features the brand's signature organisational elements inside, is stripped of any hardware and instead features a belt technique to fasten the bag and adjust the straps. Two collectible charms, a sycamore and an oak leaf, characterise the collection. With a pared-down aesthetic, the bags are designed to develop a beautiful patina over time. A customer's initials can be added for a bespoke finishing touch.
"Nothing makes me happier than watching the development of the fashion industry as we all strive towards a regenerative future where every single product that is produced has a positive impact on nature and humans. I am therefore so proud to partner with Anya Hindmarch to celebrate her new range of biodegradable leather bags. These bags, once they have been loved by their owners for years and years, will be able to decompose back into soil, providing nutrients for the micro organisms beneath our feet!" 
Credits: Anya Hindmarch & Arizona Muse