Steve Sothmann of Real Leather, Stay Different looks at the advantages of brands investing in regenerative leather.
In 2019, footwear and apparel brand Timberland announced its intention to build a 'regenerative leather' supply chain. Part of its 2030 vision to design products with a "net positive impact", the company committed to sourcing 100 percent of its natural materials from regenerative agriculture, which aims to restore the soil. But what exactly does that mean and how does it work? Looking at the steps Timberland is taking to create a more responsible leather supply chain provides an insight.
From the ground up
To deliver on its regenerative leather promise, Timberland is working with partners in the United States, where it sources 90% of its leather. These include Other Half Processing (OHP), a company that works with farms and ranches, meat companies and processors, and Thousand Hills Lifetime Grazed regenerative ranches. While the U.S. leather supply chain uses best practices in social, environmental and animal welfare protection, these supply chain partners give Timberland access to hides that meet its standards with respect to biodiversity, soil health and carbon sequestration.
Farms that are 100% Grass-fed, practice Managed Grazing and are committed to Regenerative Outcomes are eligible to join Timberland's regenerative leather supply chain. Farms need to be able to demonstrate their compliance with each of these criteria through verification via various market certification schemes, such as the American Grass-fed Association (AGA) standards, the Regenerative Organic Certification (ROC), the Savory Institute's Ecological Outcome Verification (EOV), or Audubon's Conservation Ranching Initiative.
However, it's not enough for producers to have the right practices in place; they need to show that what they are doing is having a positive impact. Today, the tools and the science to measure that impact are limited, according to OHP Co-founder and CEO Jim Kleinschmit. But showing real soil benefits is the long-term aim of Timberland's regenerative leather supply chain.
Mimicking nature
As per Timberland's specifications, grass and grazing are a major focus in regenerative systems. The idea is that by moving animals around ranches in a way that imitates the natural movement of herds in the wild, there are benefits for the land. The approach is based on the rule of thirds: graze a third, trample a third and leave a third of the land as grass, which allows plants to regrow and boosts carbon storage in the soil.
As Timberland explains, "Our planet has a problem – there is too much carbon in the air and not enough in the ground. Regenerative practices mimic nature, enabling the land to pull more carbon out of the atmosphere and efficiently store it in the ground, where it can rebuild the structure of the soil, leading to healthy, hydrated, fertile ground – and ultimately, net positive impacts for the land and the farmers."
In this way, regenerative leather made from cattle reared using regenerative practices actively restores the soil and improves productivity.
A growing trend
The results of Timberland's regenerative leather supply chain can already be enjoyed, with several products already available. Most recently, the brand introduced updated versions of two of its most iconic styles – Earthkeepers® Original 6-Inch Boot with Regenerative Leather, updating the Earthkeepers® boot from 2007; and Timberland® Heritage EK+ 6-Inch Waterproof Boots with Regenerative Leather, based on the Original Yellow Boot design from 1973. In addition to using regenerative leather, both boots feature Timberland's ReBOTLÔ fabric lining containing at least 50% recycled plastic.
However, while Timberland is the true regenerative leather pioneer, other brands are following in its footsteps. The most prominent is British luxury brand Mulberry, which outlined its regenerative aims in its Made to Last Manifesto in April 2021, including plans to develop "the world's lowest carbon leather sourced from a network of environmentally conscious farms".
In the words of the manifesto, "It is abundantly clear that Mulberry's 50-year association with leather is both our greatest challenge and our greatest opportunity. That's why we are pioneering a hyper-local, hyper-transparent 'farm to finished product' supply chain and working with a network of progressive farmers who are committed to practices that improve soil health and encourage biodiversity."
The prospect of more brands investing in regenerative leather is exciting. Leather is already sustainable by dint of the fact that it's made from a by-product from the meat and dairy industry that would otherwise go to waste. But regenerative leather goes beyond sustainability. It goes deep into the soil, helping nature thrive and giving back to the Earth more than it takes out.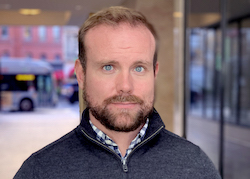 By Stephen Sothmann of Real Leather. Stay Different.
Further information: read and listen